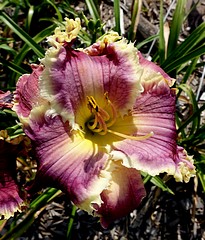 Check back here for our 2019 Open Garden and Daylily Sale date. Or contact us by e-mail: nripley22@gmail.com

Contact Nan if you need a speaker for an event. We are an Official 2019 AHS Display Garden. We welcome visitors, but please call or email ahead to make arrangements before your visit.

Nan was featured in the May 2017 Martha Stewart Living Magazine. Nan's 'Supreme Scream' is on the front cover of the ia Magazine Business Publication for 2018 with a story about "The Artful Gardener" on pp. 102-109.

My husband Merwyn Ripley and I have lived on 10 acres in rural Iowa since 1965. I retired from Iowa State University in 2003, where I was the Office Manager for the Athletic Compliance Department, to spend more time with my passions: family, friends, our horses, gardening, hybridizing daylilies, water-color painting, and photography.
Being an active member of the National Conifer Society, Iowa Regional Lily Society, Ames Garden Club, Iowa Arboretum, Co-hort Member at Iowa State University Reiman Gardens, Master Gardener since 1994, Garden Judge and instructor for the American Hemerocallis Society, and having our garden be an American Hemerocallis Society National Display Garden keeps me busy all year. I like writing articles on gardening and perennials and have done so for several newspapers, journals, and magazines. Teaching a class on hybridizing in our Walkabout Gardens every July is a joy. I served on the AHS Board as Director of Region One and Chair of the Educational Outreach program from 2010 through 2015.
Each spring, I make a special place in the field garden for the daylily seedlings and plant about 1,500 seedlings each year. We move our selected and line out our futures in the fall in this garden. We have four large designed gardens with every hardy & unusual perennial I can find. Also on the north part of our property is our arboretum including the splendid white pines and our magnificent sycamore. To the west of this area, we have our weeping willows, bald cypress trees, hosta garden, a berm with miniature conifers, drift wood pieces, and other dwarf plants. On the southern part of the grounds, we have a small orchard, four smaller designed gardens, the field with the daylily seedlings, our introductions, and hybridizing plants.
To date, I have 54 daylily introductions. We ship from May through September weather permitting.

It's a Beautiful Thing when a Career and a Passion come together.