*THE BATTLE BELONGS TO THE LORD

(N. Ripley 2016) 09NR022G (Rolling Raven x Orchid Waterfall) Tet. Here is a flower that has been a winner since first bloom. I would walk around this plant amazed at the stunning color and strength of the whole plant. Scapes are strong and carry the blooms nicely, and the turgid petaled blooms don't lose their color in the sun. The flower is an Unusual Form cascade, 6.5"flower, longer wingspan, 40-43" height, hardy and very dormant in zone 4. I think The Battle Belongs to the Lord could go farther north with no trouble.

The Battle Belongs to the Lord brings a new color to our palette of the unusual form class. I tried for a long while to think of what color I feel The Battle Belongs to the Lord is in the plant world. A friend poured Cabernet into a crystal glass and said isn't this the right color? Yes, that is what I would say the color is like. A deep velvet cabernet suffused with violet tones. A large glowing yellow-gold throat ending with an olive green heart. The color is very unusual. Early morning opener in our garden. I named "The Battle Belongs to the Lord" for all my Family and Friends who have or are now battling cancer. Pod and pollen fertile. Double fan, $75.00.
---
*SUPREME POWER

(N. Ripley 2016) 09NR0003 (sdlg x Orchid Waterfall) Tet. Supreme Power is a rich saturated Chinese-red self above a gold green throat. This color is used for celebrations in the Chinese culture. Supreme Power is a celebration of color in any garden. Blooming Mid Season, this northern hardy crispate unusual form is vigorous and showy. Displaying its blooms gracefully on a 31" scape with 3 way branching and 18 large buds. This 7.5" hot red flower will spark up any garden. As with many unusual forms, it has a longer wingspan and because of this will at times present the flowers larger than registered. Fertile both ways. Double fan, $50.00.
---
*BELLA BETHAN
(N. Ripley 2016) 09NR128A (05NRK015 x 08NRK071) Tet. Bella Bethan. I am so pleased to name this flower for my friend Ieuan Evans' sister Bethan Scott, who lived in Wales. Bella Bethan is a gorgeous lavender with a pale smoky blue watermark above a green throat. The ruffled edges have a picotee of the same pale smoky blue leading to a fine silver sparkle on the edges. This flower can stand alone in any garden and compliment colors around it. The plant is robust, Early-mid season blooming, has 3 way branching, with 18 + buds depending on moisture, and 5.75" flower on top of a 30" scape. I have been using Bella Bethan since its first bloom. You know me, you know I love 'blues' in the garden. Pod and pollen fertile. Double fan, $75.00.
| | | |
| --- | --- | --- |
| Dr. Ieuan Evans | Bethan Evans Scott | Ieuan & Bethan |


OFFSPRING OF 'BELLA BETHAN'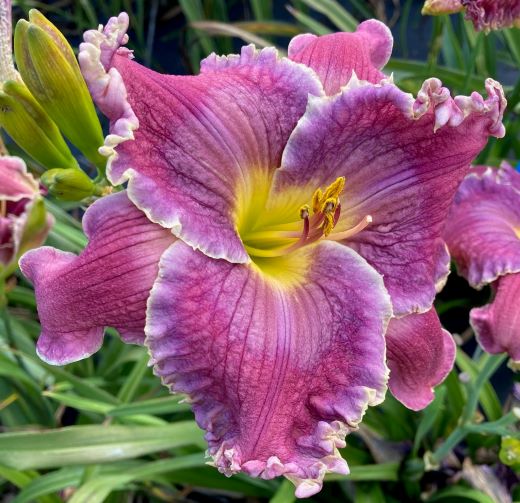 16NR126 Bella Bethan x Vanishing Mist
---
*WITH ONE VOICE

(N. Ripley 2016) 07NR415 (Sister of Praise x sdlg.) Tet. With One Voice is an exceptionally beautiful polychrome, subtly merging cream, pinks, and the palest of yellows to form a flower of singular beauty. It is also a polymorph, making various forms and styles as she pleases depending on weather.

Now to describe With One Voice's form… she is always adorned in gorgeous pink ruffles ending with yellow diamond dusted edges. Sometimes you will even see teeth on those sparkling edges. The petals sometimes pinch, causing the ruffles at the tips to flare dramatically. At other times, With One Voice presents round blooms with reflexed petals. The yellow of the throat blends gently with the pink of the petals, and is accented by an olive green heart. I have never seen a flower that can change like this one, and regardless of form, one's eye is consistently drawn from the smooth petal surface to the ruffled, sparkling edges. And on some days there is sculpting in the throat area. With One Voice reblooms if enough water is present during the growing season. Flowers are of heavy substance and are typically round early in the season, and more pinched toward the end of the season. Flower size varies from 5.5" to 6" depending on mood and water. Scapes are 29" with 3 way branching & 18 plus flowers.

I have loved this flower from its first blooms, yet I held her back waiting to see if she would make up her mind on what shape she would like to be. With One Voice has decided to be anything she likes, but never disappoints her viewers. Fertile both ways. Double fan, $75.00.
---
*SCHLENKER'S SPIRIT

(N. Ripley 2016) 10NR631B (Stippled Statement x Diamond Star Halo) Tet. Schlenker's Spirit, what a wonderful complex beauty. This amazing daylily is a rich red-purple with a bluish halo. The throat is yellow leading into a green heart. Its triple edge ends in electric greenish yellow teeth. As with many toothy edges, this color can at times gain intensity with sunshine and heat. The flower looks like it has layers of colors, due to its genetics of purple parents and one being stippled in color. Semi-evergreen, midseason, Height 27", 5.5" flower, 4 way branching, 18-20 buds, long bloom season and very hardy in our garden. Fertile both ways. Double fan, $100.00.

This outstanding daylily is named for the awesome Schlenker family. I would have missed some of the best horseback riding of my life without these remarkable friends. Julie Schlenker dairy farmer and horsewoman, Jodi Schlenker teacher and horsewoman, Bill Schlenker Cowboy, and Jodi's dad and Julie Schlenker cousin. My life is enriched by these amazing friends. Their spirits soar with Eagles.


| | | |
| --- | --- | --- |
| Schlenker's Spirit Kid 15NR318 | | |
Jodi Schlenker riding her Arabian mare 'Lady'

Jodi on Cicerone, Bill on Emily,
Julie on Pinto in Montana

Bill on Babe, Jodi on
Honey in Texas

Julie on Aul Aglow in
Colorado, 2015