*GRIT YOUR TEETH

(N. Ripley 2018) 13NR129B (Thistles & Thorns x Deadliest Catch) Tet. Grit Your Teeth is my 4th introduction with what I consider teeth, from my program. It is a mid to late season bloomer and seems to be in bloom the rest of the summer. Instant rebloomer, 4-way branching, fertile both ways, warm or cool weather creamy teeth show and the flower opens nicely. Flower 5.75" depending on moisture, 30-32" height, wonderful 4 way branching, bud count 20. Grit Your Teeth is a semi-evergreen. The color for me is an unusual shade of rose red and sometimes shows a shade of purple eye. I only see this color in the shade. This plant is in the field, no shade but when I brought it to the golf cart I did see it. Has a really nice green throat. Bonus it has fragrance. Double fan, $125.
Story and educational information on Grit Your Teeth

This plant is the best instant rebloomer in my garden. Let me share with you and show you with photos what instant rebloom means to me: First scape is up and blooming, second scape comes up at the base of the same fan with flowers that bloom. So you have 2 scapes from the same fan. What could be better then 'more flowers'. OH my I have worked very hard to get this in my plants. We have been in a drought like many parts of the country last summer and fall. Last summer when we were very dry this plant still put out instant reblooming scapes. It is a mid to late season bloomer and that is why it is important for northern gardens to have instant rebloom. I set pods late on it and then when the pod is at least grape size you can cut the scapes off and put the scapes in a bucket 1/4 full of water. I bring the bucket into the barn/or garage to let the pods finish making seeds.
Those that know me know I do my "Happy singing dance" when I find a treasure in my garden. I am not sure my friends know what I am singing but they do join in when it comes to I know, I know, I know, I know, God is on the move, on the move Hallelujah, God is on the move In many mighty ways. Here is the first of the song: Anytime a heart turns from darkness to light, Anytime temptation comes and someone stands to fight, Anytime somebody lives to serve and not be served. Needless to say it is one of my favorite songs. So now you know we sing and dance in my garden. It happens the first time I see a new flower I am shown such grace that I have to sing. If you have heard my voice you know why I only sing in the garden.
So here are some stats & information to go with the pictures I am showing you. 4 way branching, fertile both ways, warm or cool weather creamy teeth show and the flower opens nicely. I am showing you a close-up picture of one of the petals so you can see the end of the petal, it is open with a almost square end to the petal. This helps the petals open easily when the ruffled flowers have a blunt end on the petal. The ruffles in this case are teeth and they don't get caught so it opens nicely without hanging up.
A favorite of the Wisconsin hybridizers who visited our garden in 2016 on a 100 degree day. We had a great time, come back you guys!
---
*ATTITUDE WITH GRATITUDE

(N. Ripley 2018) Tet. ATTITUDE WITH GRATITUDE 11NR289B (Supreme Scream x Free Wheelin) 9-11" flower, depending on if it curls backwards, 43-45" height, semi-green, early season, rebloom. Early morning opener, very hardy in my garden. Attitude With Gratitude is a perfect name for this flower. Shamelessly it flaunts large brightly colored flowers on scapes standing tall in the garden.

It is striking to see this plant in the garden for so many reasons. Bright orange, dark red orange eye that points out on the petals. Red orange chevron on the sepals, very eye popping. ATTITUDE WITH GRATITUDE is a perfect name for this flower early morning opener. Large flower 9-11", tall 43-45", Semi-green, reblooms, with strong straight scapes that do not bend. Fertile both ways. I planted ten seeds to gauge what different looks I might see. Most were nice but I selected five to move. Then after being moved one took off like a house afire. Has been my pick since then and has not disappointed me. I love when I use my plants for parents. SOLD OUT!




OFFSPRING OF 'ATTITUDE WITH GRATITUDE'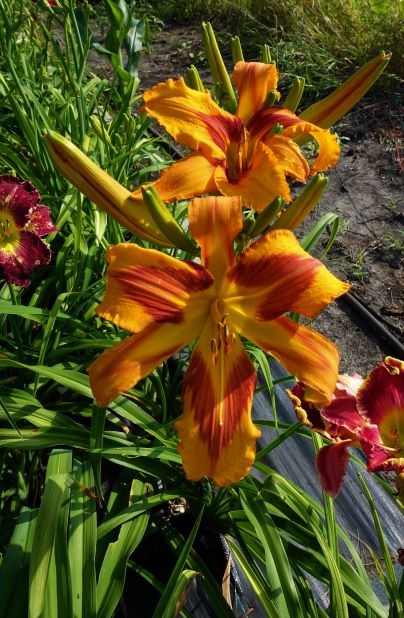 16NR067
(11NR289B X SDLG)
---
*CONQUERING KING
(N. Ripley 2018) Tet. Conquering King, 12NR126 (Bali Watercolor x Twiggy's Lavender) flower 7.5", height 38", rich purple bitone, hardy semi-evergreen in our garden. We have watched this flower mature since the first bloom in 2013. Each year getting better, taller, petals never pinch, the sepals are a paler shade of purple. Plant increases nicely and sets pods. I am not sure why I didn't start using this flower until last year. This past summer we had drought and I wanted to see how this plant would handle the lack of water. It had always put up so many scapes and flowers were exciting. It didn't seem to notice the lack of water and is an early bloomer, could be the reason. Conquering King set pods and the pollen was fertile. It didn't rebloom as much as it has in the past, so I will say some rebloom. It might have been the lack of rain. About the parents: Bali Watercolor has always been a very reliable plant in our garden but has never rebloomed. Bali Watercolor always came back and increased but not as happy as Conquering King. The funky look of Twiggy's Lavender is fun. So happy to see a little darker color on Conquering King than both of the parents. Darker color may come from grandparent Royal Celebration who is also a parent of our Scarlet Pimpernel. Conquering King is also taller than both parents as they stand in my garden. Scapes are straight up and strong to hold lots of large blooms and fragrant. Fertile both way. Double fan, $50.00.
---
*DANCING AWAY WITH MY HEART

(N. Ripley 2018) Tet. DANCING AWAY WITH MY HEART 12NR277 (Rolling Raven x Rip's Royal Purple) Naming my plants for introduction is a very fun part of the process for me. This flower is a deep dark rich burgundy with a glowing yellow throat going into green. It has lots of diamond dusting showing off on the petals. It has been gratifying watching this plant's progress from year to year in becoming an introduction. The name 'Dancing Away With My Heart' is so fitting for this flower. One of the parents is my introduction of last year 'Rip's Royal Purple' named for my husband. My husband Rip, then my 'boyfriend', that has been a long time ago, took me dancing Saturday nights when we were going together. This was one of my favorite things to do when I was in school. Music and dancing....remember those days? So there are two connections to my husband with this flower. The other reason for this name is the flower standing tall dancing high on the wind. The petals and sepals form changes during the season making it a true unusual polymorphic form. Flower measured flat 7" longer pulled out, height 43", branching 3-4 way, buds 13-20, midseason rebloomer, diurnal, semi-evergreen, has some fragrance, ruffling on petals, fertile both ways. SOLD OUT! Please contact Nan if you'd like your name added to the waiting list.
---
*FAITHFUL RAINBOW CONNECTION

(N. Ripley 2018) Tet. Faithful Rainbow Connection 11NR038A (05NR429 (Rushing Delight x Linda's Magic) x Winifred Esther) Semi-evergreen, 6" flower, height 27", straight scapes, with nice 4 way branching, 15 – 18 buds, early bloomer, once in awhile it will poly. What a fun flower with rainbow colors, as you can guess the garden name of this flower is Rainbow. When I see Rainbow, it reminds me of its parent Winifred Esther and the wonderful woman it was named after. This flower makes you think of rainbows and the connection rainbows have with the promise. "God knew they might be fearful, so in His sweet mercy He made a covenant, a promise, to Noah and all the earth. In this covenant, God promised unconditionally that He would never send another flood to destroy all life on the earth. In Genesis 9, God sealed His promise with a rainbow in the sky". Plants looks great in the front of the border. The petals start with violet purple bleeding into a bluish eye, flowing to a lovely pale cream throat with a green eye in the center. Star shape with the sepal curling back. Putting Faithful Rainbow Connection with patterns just came naturally and I can't wait to see what the seedlings look like next summer. Great increaser with clean foliage, easy fertile for me. Double fan, $50.00.
---
*GOD GIVEN

(N. Ripley 2018) Tet. God Given (Seedling x Seedling) 11NR000. When I saw this flower for the first time in 2012, just couldn't believe my eyes. Looking at the label, then the flower out came "GOD GIVEN". It was my seedling. Been dreaming so long of a purple with a bluish eye and white teeth. The best thing about it is the wonderful clean color of purple and true white teeth. It is a gracious parent. Flower 5.5", height 28", Branching 3 way, bud count 15 + Semi-evergreen, mid season bloomer. Easy pod setter. I have three kids by God Given that I have selected. I'll show pictures below. SOLD OUT!
| | | |
| --- | --- | --- |
| 15NR351 D (Thistles & Thorns x God Given) | 15NR351 E | 15NR472 (Thistles & Thorns x God Given) |
---
*LOVE OF JULES

This introduction is for a family member we lost last year. For all those that have lost a loved one peace be with you and yours. God is full of Mercy and compassion for us. "I will never fail you. I will never abandon you" Heb. 13:5

(N. Ripley 2018) Tet. Love of Jules, 09NR322 (Michael Bennett x Ninja Night). This flower is in honor of our much loved nice Julie Diane Annis, who left this earth in November 2017. Her sweet daughter, my lovely grandniece Shailey Letts, and June Ripley Kirkpatrick (my husband's sister) and Jules' mother picked this flower to be named to honor Jules. Jules died much too soon and will always be in our hearts. We know Jules is in God's loving arms, in no pain, and watching over her dear daughter Shailey from Heaven.

Jules is a great garden plant with lots of large flowers that are fertile both ways. Dormant, 3-way branching showing off an average of 18 blooms, in a great color combination of reddish purple, with a lovely large blueish eye moving down to a green throat. Thin white edge on petals and sepals complete the flowers. Scapes height average 28" and show off the diamond dusted flowers well. Double fan, $50.00.
---
*MY FRIEND JONATHAN

(N. Ripley 2018) Tet. My Friend Jonathan 12NR104 (Sdg 09NR352A-Place Garden Beauty x Bluebird Butterfly) x Entwined in the Vine). This flower is named for my good friend Jonathan Poulton. Jonathan loves patterns on daylilies, so it is my chance to name a patterned daylily to honor Jonathan. A happy early morning opener, wonderful cream with a multicolored eye pattern, chevron pattern on the sepals, strong scapes, fine picotee edge of a color matching the patterned eye. The flower 5.5"+, height 34", 4 way branch with 18+ buds, early season bloomer, some rebloom, fragrant and semi-evergreen. I love green throats on pattern daylilies. I think this makes you take a longer look at the flower. You can take a lot of time looking deep into this pattern to green throated daylily. Crosses for this flower would jump into my mind's eye each day when I would see it blooming. With having raised midribs makes me think that I could put a ruffle on it. Time will tell. It is great to have a consistent pattern on a tall northern daylily that carries the flowers well. Light ruffling on petals and sepals and fertile both ways, what is not to love. With the background on this flower it should mix well and have pretty patterns on its kids. I am looking forward to seeing many kids in the seedlings bed this summer. I am proud of this patterned daylily and some of the reasons are it always shows a pretty pattern in the eye zone on every flower, pattern on the sepals always shows in my garden, tall straight scapes holding up the flowers nicely and it is hardy. The color base of cream will go with any color and could clean muddy colors. Double fan, $65.00. Limited.
| | |
| --- | --- |
| | |
Don Lovell, Jonathan Poulton, Nan Ripley
& David Kirchhoff

Jonathan Poulton
---
ARMY OF ANGELS

(N. Ripley 2018) Dip. Army of Angels, 13NRD017E (Seedling 08NRD202D x Zebe) Think about an Army of large bright pink diamond dusted flowers marching across your yard..that is what I see when I look at Army of Angels. In the pictures, you can tell I needed to lineout or divide the clump, but I was using it so heavy I didn't want to stress it until fall. It is a mighty increaser and I would expect this coming from the pollen parent our 'Zebe'. I feel the bright color is coming from Nathan Sommers through Zebe and our seedling. Height 34", Large Flower 7.5"- 8" dormant, blooming early with rebloom, Oh so Bright clean pink color saturation to the max! Fragrant, flowers dance above the foliage with glee. This plant is a doer, with flower power, and scapes that stand straight no matter how many flowers are blooming. Cream throat going into a green eye, great scapes with 3 to 4 way branching 18-20 buds on mature plant. Midrib carries a white line on lightly ruffled petals. Sepals always have a perfect curl at the end. Good increaser and pod & pollen fertile. SOLD OUT!
---
BEYOND LOVELY

(N. Ripley 2018) Dip. Beyond Lovely, 11NRD126 (Sdg 06BWA x Kaleidoscopic Intrigue) This is an elegant flower from every angle. Large cream with lavender pink eye, large green throat that goes way out on the petals and sepals. Tall straight scapes, with nicely placed buds, 3 way branching, 15-18 buds. Pod and pollen fertile, midseason bloomer. The clean cream color on this flower is covered with diamond dusting that goes into the eye as well. Height 31", 6" flower that has great spacing on the scape. Nice ruffling on the petals and sepals, semi-evergreen hardy in my garden. I have been working on getting more ruffling on my dips on both petals and sepals. Last summer, I put it with some of my pattern eye seedlings. Yes, this summer is going to be special. Double fan, $100.00. SOLD OUT!
---
FULLY ARTFUL

(N. Ripley 2018) Dip. Fully Artful, 12NRD261 (Nature's Fine Art x Nikki Schmith) Oh my gosh what a fun flower is Fully Artful. I put it with patterns, spiders, and unusual forms. The opportunities are endless. The height is wonderful for this large flower and the spacing on the scapes is perfection. Scapes straight up and it doesn't seem to matter how many flowers are open it stays straight. It is a true sepal quilled flower, and would have to say it is an unusual form. The color combination is colorful for sure. Petals start with what I call skin toned peach, into a pretty reddish purple eye, ending in a large green throat. This flower makes me smile and my head swims with impossibilities of what I could get in kids. Tall 38", with a great scape of 4 to 5 way branching, 20 + buds, 7" quilled crispate flower, rebloomer, pod & pollen fertile. Semi-evergreen and hardy in my garden. I can't wait to see what this summer holds in seedlings. I put Fully Artful on more dips than any other flower in my garden, because the possibilities are endless. Yes, I set a few pods as well. Double fan, $100.00. Limited.