2022 Introductions

Tets

*NOTHING IS IMPOSSIBLE WITH GOD

(N. Ripley 2022) 14NR158 (23312KE Sdlg. X Higher Power) Tet. 32" tall, 6"-flower, 3-way branching, 15 buds, very good parent. Mid-season rebloomer, magenta purple, diamond-dusting abounds on this flower. Water mark eye bluish purple shades, green throat, ruffled tripled edge of cream, bluish purple, magenta purple. Thick petals and sepals. Sometimes showing angel wings. Fertile both ways. Very limited. Double fan, $175.00.
This flower is named for our dear brave sister Barbie Magnuson, where God proved Nothing Is Impossible with Him. He can turn anything around. Prayers are powerful and pleasing to God.
Barbie was diagnosed with follicular lymphoma on October 13, 2021. A large tumor was on the left side in her abdomen. First treatment was 7 hours of chemo that caused thrush, and Barbie spent 5 days in the hospital. There were 5 more treatments 3 weeks apart. Each treatment took 5 hours, and they were called R-Chop 5 different chemo medications. Last treatment was Feb 2, 2022. We waited. March 2nd, 2022 they did a PET scan, and the tumor was GONE. I know God could hear us singing his praises. Yes, a very personal Mercy from our Creator! "Hallelujah and Amen". They will keep testing her to be sure the tumor doesn't return. "Barbie, praying and living each day God is giving me."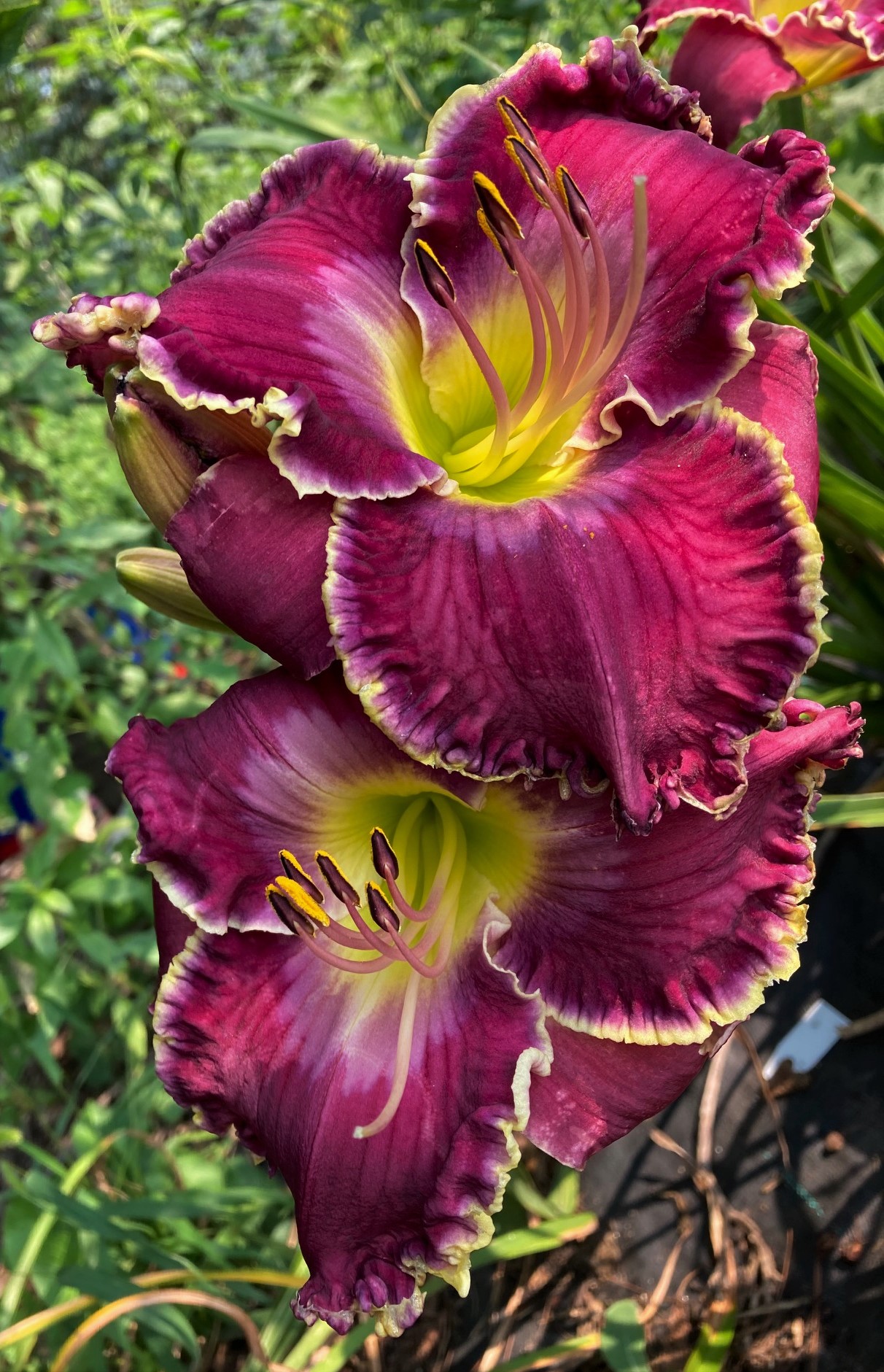 Dips

FACE ALL THINGS WITH LIFTED HANDS

(N. Ripley 2022) 16NR165 (Sldg. X Spirit of Sapelo) Dip. Height 32", 6"-flower, 3-way branching, 15 buds, blooming early, and fragrant. This flower has so many things going on. A fun and complicated unusual Crispate-Spatulate flower. Heather Pink, with dark magenta eye, into a large green throat that flows far out onto the petals, and sepals curl at the end. Some ruffling on the petal edges that fold back, raised midrib on petals in a brighter pink. Large buds as the picture shows. Scapes are straight up and flowers are nicely above the foliage. "If you know me, you know how I love curls!" A hint for hybridizers, I am taking this flower and pollen to my bearded/cristate dips. If you are working with or want to make pinched crispate, midrib crested, pleated, sculpted, spatulate or any other unusual form, this flower is a treasure trove of genetics. However, I would caution you against using red or orange colors with this flower. I have many crosses coming from this flower. I can't wait to see what I get. Fertile both ways. Very limited. Double fan, $175.00.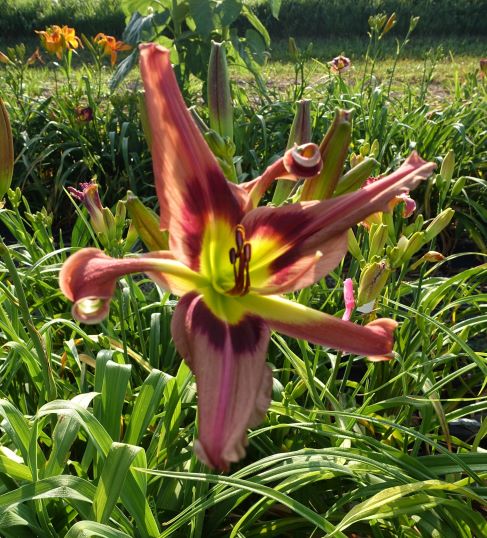 KINDNESS CHANGES EVERYTHING

(N. Ripley 2022) 13NR500 (Sister of Mine X Sdlg.) Dip. 32"tall, 6-7" flowers, 2-3 way branching, 10-14 buds rebloom, Semi-evergreen, midseason, and a very hardy plant. The color of this flower to my eye is a dark Flamingo Pink. It has wonderful darker lines on the petals and sepals. Midrib colors starting from green throat to cream to the flamingo pink. Some ruffling on the petals, large green throat flowing out onto the sepals and petals. The flower will be polymerous a few times during the summer and will have proliferations. Flowers are displayed well on strong scapes. The petal midrib is raised and makes a statement with the greenish throat star with the sepals having an even larger green throat. On rebloom, the flower seems to be larger. Fertile both ways. Double fan, $75.00.

Walkabout Gardens